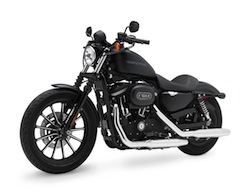 With nearly 3300 miles of shoreline, the state of Michigan offers some of the best riding in the country. Not surprisingly, to cruise the Wolverine State's highways and byways on two-wheels, you'll have to carry motorcycle insurance coverage. After all, it's the law.
Right here at Michigan Motorcycle Insurance, we help riders like you get the best coverage and cheapest monthly premiums available by performing online comparisons of rival motorcycle insurers. Getting started takes less than 10 seconds. Just submit your zip code.
Motorcycle Insurance: Michigan Laws
Motorcycle liability insurance is compulsory in the state of Michigan. Liability coverage provides protection from claims arising from injuries or damage to other people or property. Your liability coverage must meet or exceed certain minimum thresholds for bodily injury to others and damage to third party property.
$20,000: Liability Coverage for Personal Injury of a Single Party in an Accident
$40,000: Liability Coverage for Personal Injury to All Persons in an Accident
$10,000: Liability Coverage for Damage to Property
If minimizing costs is your number 1 goal, only getting insured up to these thresholds is your best option, but a lot of riders go with more than this. After all, The Insurance Research Council has found that 17% of Michigan road users drive without insurance. You may want to consider Uninsured Motorist coverage so that you will be covered if the other motorist is uninsured.
Full Coverage for Your Motorcycle
Although liability insurance is mandatory, we recommend opting for a full coverage policy if you have the funds to do so. If you financed your motorcycle, this may be required by the lender while you're paying it off. But even if you bought your bike with cash, it's a good idea. If you ride a sportbike, simply dropping your bike in the driveway could cost you hundreds – even thousands – in repair costs for the fairings. Cruisers are slightly better in such scenarios, but they are generally more expensive and therefore represent a bigger loss if totaled. For this reason, we recommend you at least compare the cost of adding collision insurance to your policy versus leaving it out.
Michigan Helmet Laws
Michigan does allow some riders to forgo the use of a helmet, provided that they meet certain requirements:
21 years of age or older.
$20,000 in medical insurance coverage.
Licensed for two years, or passed approved motorcycle safety course.
For more information about helmet laws in the state, as well as locations of approved training courses, please visit the resources section to your right.